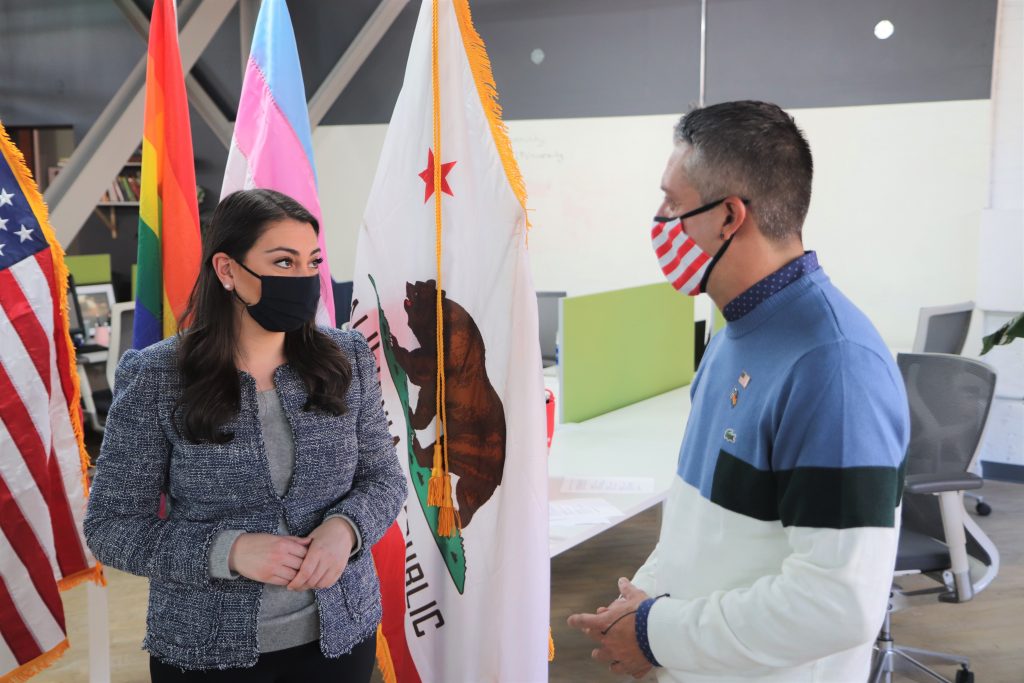 It makes fabulous business sense for LGBTQ+ and ally organizations to invest in the long-term success of their community. That's why the Equality Business Alliance is the only LGBTQ business organization to offer value-added programs and initiatives for our membership.
Our focus on political, social, and economic justice is why we put "EQUALITY" in our name and include it in all the work we do.
We are proud to use our platform and membership to take an active role in growing jobs, promoting business success, and making the Greater San Diego and Baja California regions a great place to live, work, invest and play — through our programs and community initiatives.
The EBA established the LGBT Visitor Center in 2015. It opened as the world's fourth LGBT visitor information/welcome center.
It also serves as the offices of the EBA and a small business incubator, in addition to providing marketing and advertising opportunities for our members.
The Visitor Center is funded in part through a percentage of every paid EBA membership. The Visitor Center also serves as our main offices and member center — all are welcome to stop by.
PLEASE NOTE: DUE TO THE COVID-19 PANDEMIC, OUR VISITOR CENTER IS CURRENTLY CLOSED. WE WILL REOPEN IN LATE SUMMER OR EARLY FALL OF 2021.
We encourage the San Diego Tourism Authority to commit to an increase in marketing spending dollars regarding the LGBT travel market by engaging in membership and events, and providing LGBT resources to the organization.
We also produce guides, commercials, and radio and print advertising that feature and promote our memberships. 
We work closely with our local television news stations to be the most trusted resource for LGBTQ businesses and community events.
In November of 2018, the EBA hosted its inaugural LGBT Pop-Up Exhibition at the corner of Fifth and University avenues in Hillcrest, which was officially opened by then Congressmember Susan Davis. The exhibition featured international, national, and local LGBT history and included the Legacy Project's Traveling Wall — a replica of Chicago's famed Legacy Project.
The exhibition also provided space for a theater room, which screened the public broadcasting sponsored documentaries "Stonewall Uprising" (PBS), and "San Diego's Gay Bar History" (local KPBS).
The exhibition also featured an extensive collection of artifacts from Lambda Archives, the Imperial Court, and the Equality Business Alliance. 
Our second Pop-Up — a 15-day event which took place in December 2018 to January 2019 — was titled #PositiveIsBeautiful.
This special pop-up on HIV/AIDS was presented in association with the AIDS Healthcare Foundation and Impulse Group. 
Both pop-up exhibitions were open 10-14 hours a day, seven days a week and were visited by nearly 6,000 people.
Our third pop-up featuring one of the largest private collections of articles and ephemera from the 1969 Stonewall Inn uprising, is planned for October of 2021 — during LGBTQ History Month.
Planning is underway for San Diego's first LGBTQ+ Economic Summit being held in September of 2021.
The event will feature educational, and professional development workshops, diversity supplier certification information, special guest speakers, information on how to start a business in San Diego, as well as access to funding, coaching, and business services.
Whether you are an established business, a new business, or thinking of starting a business - our economic summit is for you!
If you have an idea for this one day event, or are interested in joining our planning committee, please call 619-432-LGBT (5428)
In the spring of 2019- armed with the knowledge and resources provided by the Small Business Administration, and the San Diego Small Business Development Center, the Diversity Supplier Alliance, and the Equality Business Alliance began advancing a recommendation to regional city offices, and council on an economic development mandate for the inclusion of LGBT individuals and LGBT Business Enterprises as disadvantaged individuals and businesses worthy of inclusion in hiring, procurement, and promotions. 
Our two organizations began relationship building with key stakeholders- learning about the processes required. By summer 2019 we developed a plan of action, expanded our stakeholder meetings and soon presented at the Citizens Equal Opportunity Commission in early 2020, advocating for the inclusion of LGBTQ studies in the City of San Diego's first business disparities study since the 1980's.
The results of that study, coupled with our own data, and data from strategic partners, will give the C.E.O.C., City Councilmembers, and the Mayor's Office all the tools necessary to make recommendations on a mandate for LGBTBE. 
The EBA takes is committed to continue our march towards a more diverse, equitable, and inclusive community across all levels of economic, social and political progress. And we have committed all available resources to fight the economic inequalities affecting all lesbians, gay, bisexual, transgender and queer individuals and business members.
A major announcement on these developments will follow soon!
National LGBTQ Voter Registration Day (c) 2021- is a non partisan unofficial holiday founded by Eddie Reynoso in 2020 as a response to a report by the UCLA's Williams Institute, which found that nearly half (46.9%) of all registered LGBTQ voters did not cast a vote in the 2016 Presidential General Election. Further the report found that 21% of all eligible LGBTQ adults is not registered to vote (*1).
The aim of National LGBTQ Voter Registration Day is to encourage all eligible LGBTQ+ individuals and our allies to participate in elections at all levels of government by registering to vote and coming out to the polls during each election cycle.  
The Equality Business Alliance invited voting rights advocates across the country in encouraging all eligible LGBTQ+ voters and our allies to register to vote ahead of the fall 2020 elections. Together they marked National LGBTQ+ Voter Registration Day on Tuesday, September 29, 2020,
Organizations are encouraged to host a voter registration drive in their own cities, or direct eligible LGBTQ+ voters and allies to the National LGBTQ Voter Registration Day website to register to vote at LGBTQVoterRegistrationDay.com.
Organizations who wish to support National LGBTQ+ Voter Registration Day should sign up by emailing eddie@equalitybusinessalliance.org
Sources
*1 [https://williamsinstitute.law.ucla.edu/publications/the-2020-lgbt-vote/].
In 2017 the Equality Business Alliance launched the LGBT Sister City Program as a formal strategic partnership between LGBT Mecca's throughout the nation, Canada and Mexico. Our goal is to foster economic development through the sharing of ideas, program exchanges, and through community friendship building.
We began planting the seeds and laying the foundation of the program with strategic partners in Key West,  San Francisco, Reno and Chicago. And in 2019 we traveled to Montreal, Canada, New York City and Tijuana Mexico to expand those partnerships.
In 2021 we will continue to reach out to strategic partners, planning face-to-face meetings and bringing other partners into the program. 
The Equality Business Alliance fills a critical gap in LGBT inequalities by introducing lesbian, gay, bisexual, transgender and queer job seekers and entrepreneurs to our network of supportive employers and corporate partners.
We've also made it easy to find resources and tools to help employees and job seekers address some of the unique challenges that being LGBT can create in the workplace. 
We market this program to prospective employees and encourage members to post job openings.
The Nightlife, Industry, & Tourism: Emergency Cash Assistance Program is a fund that provides emergency financial assistance to under-insured employees of our membership. It was established after in response to catastrophic events in the lives of several prominent community members. The fund is managed by a third party provider who administers the funds on our behalf. It is funded in part through a percentage of every paid membership.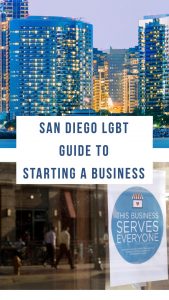 Our San Diego LGBTQ Guide To Starting A Business is available in digital and print format. With our guide you'll have everything you need (and more) to thrive as an LGBTQ or allied business owner — from how to get certified as an LGBTQ BE or other minority-owned business, to funding options and growth resources.
Check back often, or give us a call if you need additional information. Our guide is a living document that is consistently getting updates!
LGBT BE Certification:

Need NGLCC National Certification? Contact us for a complimentary referral!

Equality Business Alliance Business Institute 
Marketing Workshops
We offer a print and digital relocation guide to individuals who are new or moving to our city.  The guide covers local resources and businesses.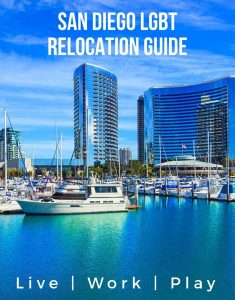 Fabulous San Diego has long been a premier destination for visitors. But it is also a fabulous place to live, work and play!
So if you are considering relocating yourself, your family or your business- we are here to help make the transition as smooth as possible - ensuring you can spend more time doing the things you love.
San Diego County encompasses 18 incorporated cities within its 4200 square mile expanse. It's largest city - the City of San Diego is California's second largest city and the eight largest in the nation.
Our region is most known for its sunny paradise climate, our 70 miles of gorgeous beaches and world class attractions.
But it's not all surf and sand.  San Diego's rolling hills, are the ideal location for world class wineries, our mesas, and plateaus provide hidden neighborhoods and communities, and our mile-high mountains are filled with tales of treasure, mining camps, and plenty of places to hike, fish or camp. Further inland- our mountains give way to desert valleys, and the Salton Sea.
All this sunshine means one thing for residents and visitors- you will always find something to do.  Our Pride Festival boasts a music festival with top entertainment such as Kesha, Ruby Rose, TLC, Gracelia Beltran- and more.  Over 100 artists provide entertainment for 40,000 people across four stages.
And if sports is your thing- every October - San Diego hosts one of the world's largest gay softball tournaments- The Autumn Classic!
And in late spring- FilmOut hosts their annual FilmOut Film Festival - one of the largest LGBT film festivals in California! But it's not just a once a year event- FilmOut hosts over 10,000 people throughout their monthly screenings each year!
Make a plan to explore our neighborhoods.
Visit with any of our featured real estate services or tour some of our apartment homes.  You may just find yourself running home to pack your bags!  Our Equality Business Directory is always free to browse and search through hundreds of businesses and services that will help make your relocation easier.  You can also contact us directly at 619-432-LGBT (5428) for a referral to one of our business members.
Resources For Your Home:
Storage Services
Moving services
Things To Do
Dining & Drinking
Hotels & Spas 
Shopping & Entertainment 
Tours & Attractions
Neighborhoods & Events
LGBTQ Resources
HIV Services
Trans Services
Youth Services
Women's Services
Mental Health Services
Latino/Hispanic Services
Sports
Young Professionals with Pride is a our new networking group launching in the Fall of 2021 for individuals under the age of 32.
It's purpose is to power and strengthen the Young LGBT and Allied professional community in San Diego through networking, community outreach, and education. Our Young Professionals With Pride will participate in our Business Institute Young Professionals With Pride Academy for a 8-12 week program. The cohort will be limited in capacity.
Throughout much of the nation, investment in our communities is primarily distributed by the income and wealth, race and ethnicity, and the geography of our neighborhoods.
Often times other factors, such as decades of disinvestment, architecture, traffic patterns and other causes can also cause a downturn in the economic vitality of a community.
These factors — as negative as they may seem — can lead to opportunities where a community that is walkable, and rich in amenities, can be developed and gentrified while still maintaining its neighborhood history through preservation of buildings and legacy businesses that are historic to the neighborhood, as well as through thoughtful place-making projects that preserve the character and cultural legacy of the community.
The EBA understands that gayborhoods around the nation are slowly disappearing as gentrification takes hold. And we also understand that the idea of what a chamber provides is rapidly changing. Chambers and business associations are no longer just a networking organization.
From Main Street USA to Main Street Alliance, chambers and Business associations, conservative and progressive alike are taking the lead role in place-making projects as engines for the economic development of their neighborhoods and cities. For that reason, the EBA has identified several place-making initiatives to focus on.
Explore Our Placemaking Projects
San Diego's diverse patchwork of neighborhoods are like a giant outdoor art gallery, with a growing number of murals being added all the time.
Each neighborhood has commissioned or approved murals that highlight their history and own unique community characteristics. Some murals are more hidden than others, but once you discover these vibrant works of art, you will learn a little about San Diego's rich and varied cultural history and the people who call it home.
From North Park, to downtown, to Barrio Logan and the ever-growing Mural Alley in Hillcrest, San Diego's murals are best seen by foot, allowing viewers to take in the full perspective of these giant gifts to the community.
Download our self-guided mural tour map, pack your camera, and discover the most Instagrammable sites in the city!
Established by the EBA in 2017 — San Diego's original Mural Alley is located in the heart of Fabulous Hillcrest, between Third and Fifth avenues. In 2018, Mural Alley caught the attention of GoPro and was featured in an international commercial, resulting in massive exposure for all of San Diego's street art and murals scene.
Mural Alley was once the home of several murals, including a famous Shepard Fairey mural. With time, the murals along this stretch of San Diego's most colorful neighborhood, slowly disappeared.
That all changed in 2012 when Crest Cafe commissioned the Purple Elephant by Cody Griffin. Soon after, the neighborhood experienced an explosion of public art that expanded Mural Alley into a neighborhood-wide celebration of art. 
Those celebrations include activation by other community organizations — including Fabulous Hillcrest's photographs on utility boxes and paintings on rubbish receptacles.
Mural Alley is also home to Walk In A.R.T., a monthly event presented (prior to the pandemic) by the Hillcrest Business Association and supported by many of our member businesses.
Art also plays a major component of Hillcrest's community shopping center, The Hub, which was recently redeveloped with art as a focus.
The EBA is now shifting our efforts on an "LGBT Welcome to San Diego Mural," to help anchor Mural Alley as a destination for LGBT visitors and residents.
Learn more about other neighborhood art by visiting Fabulous Hillcrest.
For nearly eight years, the EBA advocated for Rainbow Crosswalks at the local and hyper-local level. In January of 2020, San Diego's first Rainbow Crosswalks were dedicated at Pride Plaza by the office of San Diego City Councilmember Chris Ward.
The EBA is proud to have provided support to Councilmember Ward and during the installation and dedication. We thank Chris Ward's District 3 staff for their hard work and dedication to ensure the crosswalks were implemented, and we continue to advocate for rainbow crosswalks at the intersection of Fifth and University avenues.
A percentage of every membership is set aside for the LGBT Legacy Walk — an interactive and educational place-making project that will feature 30 bronze plaques celebrating the accomplishments of the LGBT community.
The LGBT Legacy Walk is designed to encourage economic development and historic community designation.
Funding for the Legacy Walk comes in part through paid EBA memberships, direct sponsorships, and through private community donations.
Studies from Philadelphia have shown that rainbow street signs and the marketing for the streetscapes by the city's tourism marketing arm helped to dramatically transform the gayborhood from an area known for prostitution, open air drug deals, and some of the last downtown strip clubs. The area transformed from "gay ghetto" to a thriving commercial and residential district.
The Equality Business Alliance is actively advocating for rainbow street signs within the Hillcrest neighborhood as part of our larger Plan Hillcrest advocacy work.
The Equality Business Alliance is actively advocating for the creation of a Rainbow Lifeguard Tower alongside our beach communities, similar to one in Venice Beach.
Our beach communities, specifically Pacific Beach, have a long and historic connection to the San Diego LGBT Community.
Mission Beach was home to The Apartment, which lesbians flocked to for years. Pacific Beach was also once home to a couple  LGBTQ bars, including The Matador, and Dave's Club, one of our earliest gay bathhouses. Pacific Beach was also the neighborhood LGBTQ activists called home, long before Hillcrest was established as the LGBT hub.
Notable former residents include: Ben Dillingham, III, Charles McKain, and George Murphy.