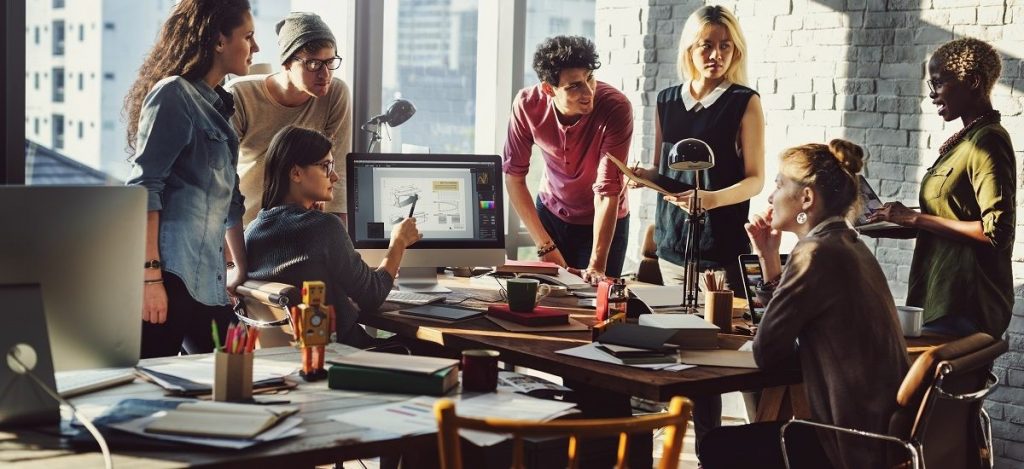 Rooted in the fundamental idea that diversity, equity, and inclusion should be celebrated.
The Equality Business Alliance is recruiting volunteers for the board of directors and our sub-committees.
We are seeking diverse community leaders with business expertise and a dedication to the mission, vision and values of a progressive chamber of commerce. We strive to create a diverse, inclusive and equitable board. In keeping with our organizational value of governance by an inclusive and open process, a majority of seats on the Board are held by leaders of LGBTQ independent businesses. Our board is designed to be reflective of our communities.
We mandate that diversity, equity, and inclusion play a factor in who fills our seats. For this reason a limited number of Board seats may be filled by appointment, in order to assure representation of diverse viewpoints and appropriate expertise to prudently govern the Equality Business Alliance, or in the case of a resignation.
Board members serve two-year terms and will meet in person on odd-numbered months, and by conference call (Zoom) on even-numbered months. Committee meetings are held in person monthly.
Interested individuals must already be a dues-paying member of the organization, and must attend a minimum of three board meetings and two committee meetings.
Membership applications (including Board of Director or Committee applications) for consideration or appoin
Eddie Reynoso Founder/Executive Director
He/Him/His
Eddie Reynoso is the founder of the Equality Business Alliance and the San Diego LGBT Visitor Center.
He also serves as Chair of the San Diego & Tijuana Visitors Center Network — a coalition of 12 visitor centers throughout San Diego and Baja California. He is also the co-Chair of the Alianza de Empresarios LGBT — Baja California.
He is currently working to create the San Diego LGBT Legacy Walk — a historic heritage walk commemorating the history of the LGBT community through permanent interactive place-making signs, which will be located along the sidewalks of Hillcrest.
Morgan Hurley / Editor
Mario Garcia / Director
They/Them/Theirs
Since an early age Mario has been involved in working with and helping the marginalized communities of Southern California.
Mario has nearly 30 years in the non-profit organization world and is seen as a community activist and leader.
Additionally, Mario has almost 25 years in Real EstateBusiness Development and Project Management. Working at Government and Private Business in California and Nevada Mr. Garcia has relationships which intersect many communities.
Mario sits on Boards for the following organizations: Equality Business Alliance, Kiwanis Club of Hillcrest All-Inclusive.
Lina Mohi / Director
She/Her/Hers
Lina has more than 25 years' experience working in non-profit organizations in program development, fund development, grant writing, graphic design, community healthcare, and administration. She has worked for SDSU Research Foundation, UCSD, Girl Scouts, Planned Parenthood, and most recently at Sharp Healthcare. She received her bachelor's degree in Human Services and her Master of Science degree in Counseling, Marriage, Family, and Child Therapy.
Lina joined the Human Dignity Foundation in 2019 with her feet running.  She is passionate about treating everyone with dignity, showing community support, and providing education to our LGBTQ+. She is also a board member of VIDA, helping to spread HIV awareness and education to the Latinx community.
Lina is a San Diego native and is excited to join the EBA board to help represent nonprofits in business.
Julia Legaspi / Director
She/Her/Hers
Community Activist
Julia was born in Cavite City, Philippines, the fifth of 11 siblings to Ceferino Legaspi and Juliana de los Santos. Julia opened JHIGS Hair Studio in 1982, a favorite spot for locals and many celebrities.
Equality has been Julia's advocacy, and she's a prominent leader in the LGBT community and the Fil-Am community. Julia received recognition from different civic organizations and political leaders, such as Mayor Susan Golding, whoc proclaimed Nov. 19, 1991 as "Julia Legaspi Day" in the city of San Diego.
In 2004, Julia was bestowed the honor of being the first transgender person appointed to public office in the city of San Diego and only the third in the country. She was also appointed by then-Mayor Dick Murphy to The Equal Opportunity Commission and later to The Human Relations Commission.
Julia is currently the president of The Los Chabacanos of Cavite City, and is also a current member of the mayor's and the sheriff's LGBT advisory boards.
Julia firmly believes, "Discrimination against any of us is discrimination against all of us!"
He is currently working to create the San Diego LGBT Legacy Walk — a historic heritage walk commemorating the history of the LGBT community through permanent interactive place-making signs, which will be located along the sidewalks of Hillcrest.
Sapphire Blackwood / Director
She/Her/Hers
Sapphire Blackwood is a first generation, Mexican-American woman. She was born and raised in California and settled in San Diego in 2005. She attended San Diego State University and the University of San Diego School of Law. 
In 2010, she began her media and public relations experience through her work with a local broadcast company. Upon graduating law school, Sapphire began her career in the cannabis industry. She quickly became an industry leader. She successfully obtained over two dozen California licenses for commercial cannabis use for her clients. Simultaneously, she worked as the policy advisor for the Association of Cannabis Professionals, a trade association that led legalization in San Diego County. She helped write and lobby for laws to legalize commercial cannabis activity in municipalities throughout San Diego. 
Since 2014, Sapphire has been an avid volunteer with many non-profit organizations including the San Diego County Democratic Party, Human Rights Campaign, Prop 35 (CASE Act), Think Dignity, ACLU, and Independent Voter Project. She currently serves on the board of advisors for Equality California and is an active alumnus for A Wider Bridge, an organization focused on LGBTQ equality in Israel. 
Thanks to her volunteer work, she became a savvy political consultant and event planner/fundraiser. Her campaign work includes field and other consulting for Scott Peters for Congress, Mike Bloomberg for President and many local candidates and land use ballot initiatives. Sapphire also hosts an annual pride party in San Diego (since 2017) sponsored by cannabis brands. 
Sapphire owns her own consulting firm - Blackwood Consulting and manages the Land Use Equity Group, a non-profit mutual benefit corporation in which she is the named lobbyist. Her clients include developers and other investors looking to navigate the complexities of government affairs. She also is a founder of SAYLA, a financial firm focused on assets in emerging industries and other development opportunities.
Christopher Conyers / Director
He/Him/His
United State Navy Veteran, Christopher Conyers was born and raised in New York, New York, and is now a proud homeowner in La Mesa, California, and the General Manager for the Cohen Restaurant Group's La Mesa- Surfrider Pizza restaurant. He is also part of the management team for their sister store- Swell Bakery.
To say that Chris is deeply passionate about pizza is in understatment.  Since his time in New York, Chris has soaked up knowledge, perfected recipes, and regulary takes classes and attendes conferences to learn more about his craft.
His love for pizza has taken him across the nation to San Diego- where he regularly shares his knowledge and techniques for creating pizza with a focus on the ingrediants, the oven, and the dough, and dreams of opening his own pizza restaurant. When the opportunity to work for the Cohen Restaurant Group arose, Chris seized the moment to learn from one of Southern California's most respected and well known restaurant families.
Chris's is also passionate about LGBTQ equality issues- using his voice to support the repeal of Don't Ask, Don't Tell, pass Marriage Equality, and the Equality Act.  As an out and proud gay man, in a rapidly changing world, Chris is actively learning how to be a better ally to our marginalized communities.
BOARD OF DIRECTORS OPEN POSITIONS
The Equality Business Alliance currently has two open board positions. If you are interested in applying for the board please submitt your interest here:
Eddie Reynoso - President
Andrew Arias - Vice President
Taylor Amar - Board Member
Mario Garcia- Board Member
Aimee Baca - Board Member
Debbie Daniels - Board Member