From Ribbon Cuttings To Mixers... Connect Today!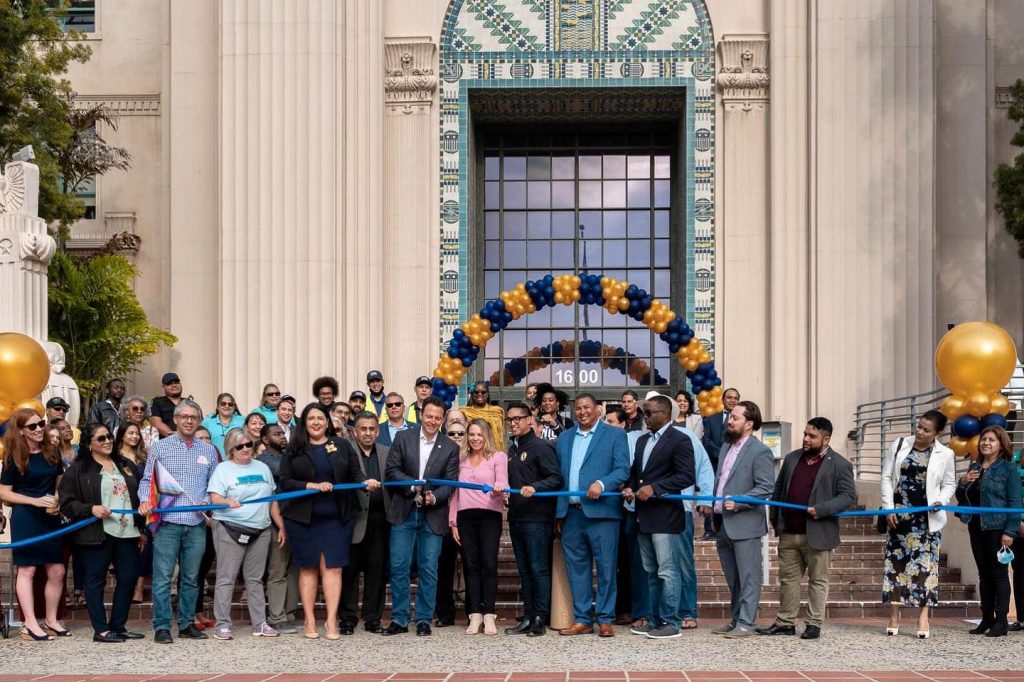 San Diego County reopens for business! The Equality Business Alliance was invited to join County Supervisors Nathan Fletcher and Nora Vargas, along with the chamber executives and community leaders from the; San Diego Asian Business Association, Central San Diego Black Chamber, San Diego Hispanic Chamber, San Diego Regional Chamber, San Diego Event Coalition, San Diego Tourism Authority, and the San Diego Convention Center, for a grand reopening celebration and ribbon cutting.
The Equality Business Alliance recognizes that the most effective marketing for many of our small business members is "Word of Mouth Marketing."  And a big component of that is networking with potential customers, and other businesses who can provide referrals or other valuable opportunities to grow or manage your business. Networking isn't just about building relationships. Meeting and interacting with other industry professionals also enables you to continue your education while also sharing tips and tricks that have helped your business with others.
We also recognize that not everyone has time to attend our Business Institute Workshops or a certification course, so we've created multiple opportunities to network on a monthly basis in a fun and creative way. These opportunities can include grand openings, our traditional Equality Mixers, grabbing coffee with a business connection, or bringing our furry family members together for a unique mixer at a pet store.
Browse some of our networking opportunities below, or let us know if you have an idea for a fun mixer that lets you loosen your tie or get out of your two-hour shoes.
Join the Equality Business Alliance & LGBT Visitors Center as we welcome new businesses (less than one year since opening), or celebrate remodels, relocations, or Legacy Anniversaries (5, 10, 15 etc) with a red or rainbow ribbon cutting and/or red carpet celebration. This unique networking opportunity allows members of the Alliance to connect with new and prospective business members, while celebrating the success and growth of our professional community. All are welcome at these free events.
If you are interested in celebrating a grand opening, remodel, relocation, or legacy event- request our "Ribbon Cutting/Legacy Celebration Form," or for additional information contact the EBA at 619-432-LGBT (5428).
Our quarterly Equality Mixers are traditional mixers held in February, May, August, and November!
These mixers give members and guests a chance to get to know each other, exchange business ideas and needs, and spotlight their company. Equality Mixer events are free for all of our members ($20.00 for guests/non-members), and include individualized networking with LGBT and Ally business professionals, as well as hors d'oeuvres, a cash bar, and interactive activities. COVID related health precautions may limit some activities and offerings.
Always the Thursday before Pride- Mix and mingle during a festive happy hour with a diverse group of LGBT and allied business professionals and organizations.
Join over 325 business professionals who come to mix, make employment connections, strengthen their networks, and have a great time. This mega-mixer is San Diego's largest LGBT themed mixer of the year, and serves to kick off the business community's  Pride week festivities.
What To Expect:

Enjoy peer to peer networking, light music, a complimentary signature cocktail or glass of wine, hosted appetizers, door prizes, a short introductions program and a Pride Kick-Off Rainbow Ribbon Cutting!

Pricing:

Pre-Registration: $25
General Admission: $30
Day Of: $35

Get your tickets early, we only offer 200 pre-registration tickets.
Co-Host and sponsorship opportunities are available!  Contact us today!
Our Three Degrees Mixers are informal and themed mixers. The purpose of the our Three Degrees Mixer is to facilitate an open and comfortable networking experience for new, prospective, & returning members to expand their personal and professional networks, make important business connections, share ideas, learn about or get reacquainted with the menu of services provided by the Equality Business Alliance.
We recognize that social media has made our world smaller and amplified our reach. We are no longer separated by six degrees.
These mixers are hyper focused on interests and designed to broaden our networks and create more contacts with like minded individuals through activities outside of our professional lives.
During Three Degrees, we host a short program that allows the host business to share a little information about their company. Occasionally, we will use this time to feature some of our smaller members that are unable to host. We then allow each member a moment to introduce themselves via a "Business Brief." The Alliance will also take some of this time to make important announcements.
Three Degrees will be held quarterly in 2021 with the goal of expanding monthly and then semi-monthly. Events can be held before, during and after work hours- on any given day of the week. It is free for members and $10 for prospective and non-members- which can be applied towards a new membership.
To accommodate requests from independent BNG's & BRG's the EBA introduces our newest networking events focused on Business to Business Referrals!
Our BRN's are networking experiences unlike any you have encountered in the past. Offering personalized resources, relevant business introductions and unparalleled business development focus, this exciting new BRN model is exactly what busy professionals have been looking for. Every "EBA Partner" of this group has proven to be an achievement-oriented, high-producing professional looking to engage with businesses and business owners.
Because busy BRN professionals have a narrowed target market, and specific business development needs, the pre-screening process of our Business Referral Network is critical to saving time and resources.
If you're ready to "Work Smarter – Not Harder" then we invite you to join one of our BRN's!
Open to any dues paying "EBA Partner." Each group may require additional dues. Contact the administrator to learn more.

BRN Name
Administrator contact
Meeting location
Meeting dates