LGBTQ+ Businesses Mourn Loss Of Officers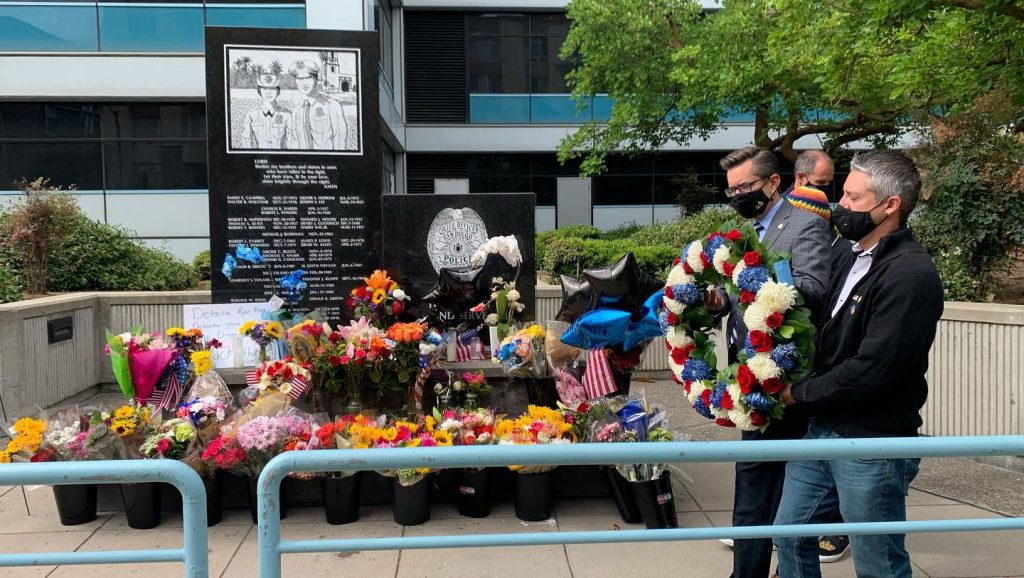 The Equality Business Alliance expresses our deepest condolences for the tragic deaths of husband & wife San Diego Police Detectives- Ryan Park and Jamie Huntley-Park, who were struck and killed by a wrong way driver this past week. Park and Huntley-Park met at the police academy, married each-other in 2016 and were both promoted to detective on the same day nearly three years ago.
This morning staff joined Councilmember Stephen Whitburn, City Commissioner Nicole Murray-Ramirez, and AIDS Walk San Diego founder Susan Jester to pay respects for our fallen officers whose parallel lives were taken too soon. A red, white, and blue wreath – donated by the Imperial Court de San Diego was presented at a memorial in their honor- outside of police headquarters.
We were joined by San Diego Chief of Police David Nesleit, Chief Paul Connolly, Chief Bernie Colon, Chief Keith Lucas, Southern Division Captain Al Leos, and Chief Sandra Albrektsen.
If you would like to donate to a memorial fund for the families of Ryan Park and Jamie Huntley-Park please visit: https://nep.regfox.com/sdpoa-widowsandorphansfund