Virtual EBA Business Institute: Best Money Moves To Make During COVID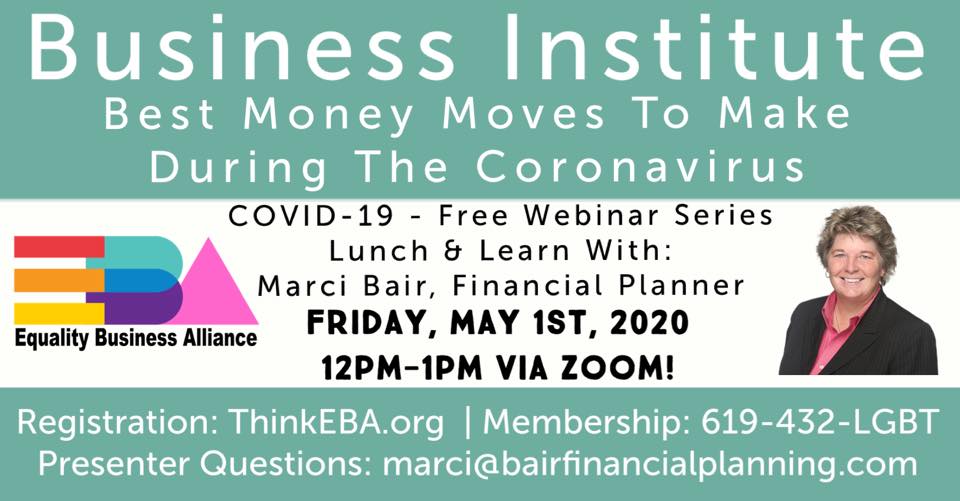 The Equality Business Alliance, Bair Financial Planning & Diversity Supplier Alliance present a Zoom COVID-19 Lunch & Learn Webinar Series. Join us every Friday from 12-1pm. Certified Financial Planner, Marci Bair will answer your personal & business related Financial questions relating to this pandemic:
* Learn about the PPP loan & payback
* How to apply for unemployment income
* Other sources of COVID-19 Money
* Should you defer your Mortgage loan payment
* Should you tap your IRA or 401(k) for money
* Should you use credit cards to finance your business
* Can you defer your student loan payments
* Questions about your stock accountRegister at: ThinkEBA.org
Email our presenter at: marci @ Bair Financial planning .com (*remove spaces)
Zoom meeting information will be provided after registration.
Our webinars and workshops are FREE for Equality Business Alliance members*.
Due to the Coronavirus pandemic memberships are complimentary through 2020.
*Membership information will be provided after registration.
**spaces are removed from all email addresses to prevent third party automated email spam-ware phishing.
Featured Restaurant: Lestat's Hillcrest: 1045 University Avenue | 619-564-6616
Participate in our Lunch & Learn and order lunch for self pick up -or- delivery via Grubhub! By participating in our webinar series you will ensure our circle of giving and support continues! A donation will be made for every participant purchase to help provide a meal from our featured restaurants to an unemployed worker in our business community! See the menu here: https://www.lestats.com/lestats-hillcrest
Donate A Meal: You can also donate a meal to local workers who have been laid-off during the crisis. 100% of your donation will be donated to the Community Meal Drive. Donate at the registration link!